The town of Rockingham has agreed to rebuild the Bartonsville Covered Bridge. Construction on the new covered bridge began in September 2012. The Grand opening of the new Bartonsville Covered Bridge will be on January 26, 2013 at 11 am.
The first step in the project was to build new abutments. Cold River Bridges from Walpole, NH was awarded the contract.  Due to the sandy soil along the riverbank steel pilings had to be pounded into the banks until they reached bedrock about 70 to 80 feet down.
    
Afterwards concrete abutments were poured. These concrete abutments will eventually be faced with stones from the original bridge abutments.
A temporary bridge was installed in March 2012. This saved the Bartonsville residents a 9 mile detour through the town of Chester if they were headed south. With only two dirt road out of Bartonsville the very warm winter meant mud season came in January.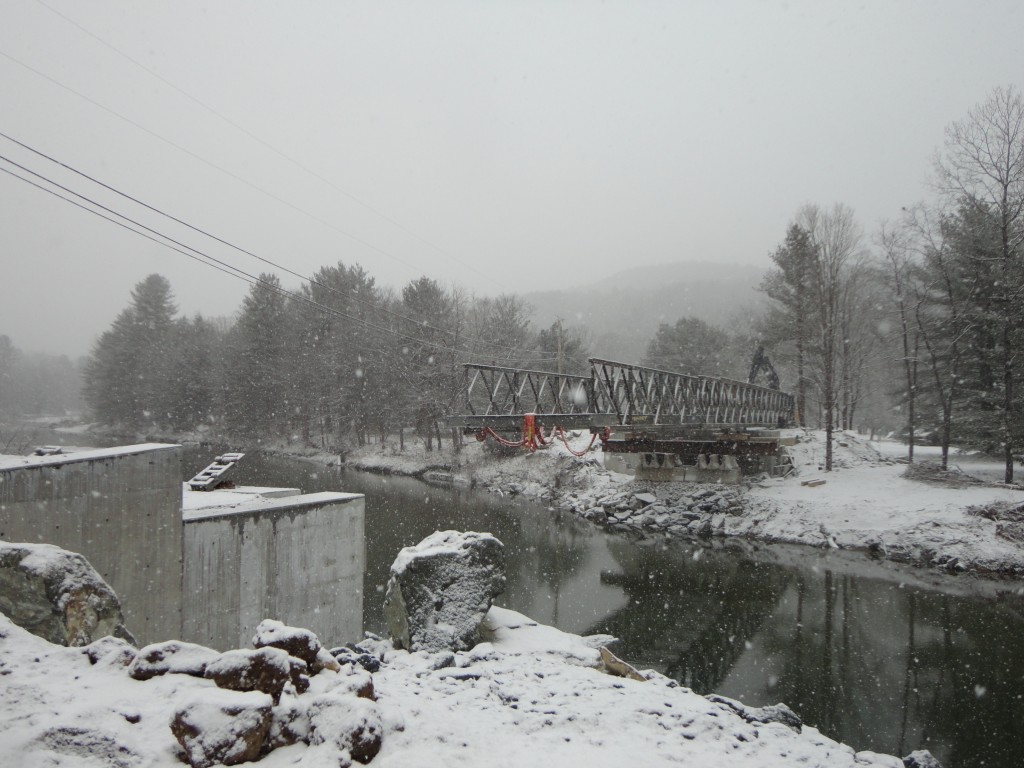 The new covered bridge was designed by Phil Pierce at Clough Harbour & Associates. The replacement bridge will be in the same Town Lattice Truss design as the original but will be 168 feet long,  17 feet longer than the original bridge. It will also be a few feet taller.

Cold River Bridges was awarded the contract to rebuild the new covered bridge. They built a temporary platform just downstream of the temporary bridge to build the new covered bridge.

First to be built was the downstream truss section. The lattice was laid out, holes drilled and the oak trunnels pounded into place.
A metal structure was built in order to enable the crew to lift the truss section and keep it upright while the upstream truss was built.The downstream truss was lifted using pulleys and rollers.
The next step was to build the upstream truss.
And again the finished truss was lifted using rollers and six pullies.This time the process went a bit easier as the crew had the technique down.