It is expected that FEMA will contribute towards the cost of reconstruction of the abutments and the bridge. The insurance policy on the bridge will also cover some of the costs of rebuilding the wooden bridge. However, these two sources of funding will not be enough to replace our bridge.
You can help by making a tax deductible donation to the Bartonsville Bridge Fund that has been established by the Town of Rockingham, Vermont. Go to http://www.rockbf.org to learn how to donate by check or by credit card via Paypal.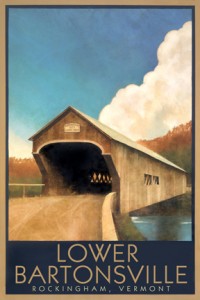 Or if you prefer you can purchase a beautiful print of the Bartonsville Bridge by local artist Charlie Hunter for $99.00. Charlie is generously donating half of the proceeds of the sale of his prints to the Bridge fund. Postcards of the image are also available for $5.00 for a packet of 10. Visit Charlie's Studio to order a print. Or if you are in Bellows Falls stop by the Village Square Booksellers.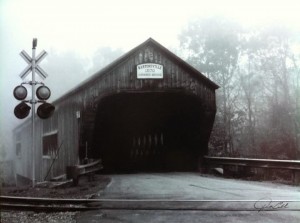 Alternatively purchase a stunning photograph of the bridge taken one foggy morning by local photographer Jim Cobb. The 8 x 10 prints are available for a $25 donation. .
Also available for sale are t'shirts for men women and children; hats and canvas shopping bags. Contact Susan at susanhammo@gmail.com to order a print or a t'shirt. We will soon have an on-line store to order these and other items with all proceeds going to support the reconstruction of the Bartonsville Covered Bridge.